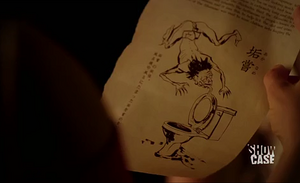 An Akaname is a Fae filth licker.
Character arc
Trivia
The akaname is a demon or yōkai from Japanese folklore. Meaning filth licker in Japanese, akaname can also be translated to mean red licker since aka is an homonym for red and filth. For this reason the akaname is often described as being red in colour. It is said to come out at night to literally lick up the grime and dirt that accumulates in unclean bathrooms.[1]
Appearances
References
Ad blocker interference detected!
Wikia is a free-to-use site that makes money from advertising. We have a modified experience for viewers using ad blockers

Wikia is not accessible if you've made further modifications. Remove the custom ad blocker rule(s) and the page will load as expected.