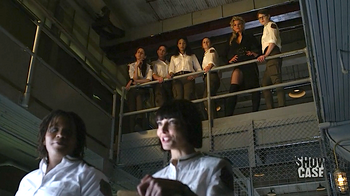 The Amazons are the Fae prison guards of Hecuba Prison, a maximum security prison for Light Fae female convicts.
Character arc
The Amazons are a proud and noble race of warrior Fae with a high sense of duty and honor.
The Amazons refuse to fraternize with men or take orders from them, even The Ash. Once every five years, they search out males to breed with. Nine months later, they celebrate the birth of their female babies, while the male babies are abandoned in the woods to live or die as they may.
Trivia
The Amazons, also known as Oiorpata in Iranian and Scythian, were believed to have been a nation of all-female warriors in Greek mythology and Classical antiquity. Notable queens of the Amazons are Penthesilea, who participated in the Trojan War, and her sister Hippolyta, whose magical girdle, given to her by her father Ares, was the object of one of the labours of Hercules. Amazon warriors were often depicted in battle with Greek warriors in amazonomachies in classical art. In Roman historiography, there are various accounts of Amazon raids in Asia Minor. From the Early Modern period, their name has become a term for female warriors in general. In some versions of the myth, no men were permitted to have sexual encounters or reside in Amazon country; but once a year, in order to prevent their race from dying out, they visited the Gargareans, a neighbouring tribe. The male children who were the result of these visits were either killed, sent back to their fathers or exposed in the wilderness to fend for themselves; the girls were kept and brought up by their mothers, and trained in agricultural pursuits, hunting, and the art of war. In other versions when the Amazons went to war they would not kill all the men. Some they would take as slaves, and once or twice a year they would have sex with their slaves.[1]
Appearances
References
Ad blocker interference detected!
Wikia is a free-to-use site that makes money from advertising. We have a modified experience for viewers using ad blockers

Wikia is not accessible if you've made further modifications. Remove the custom ad blocker rule(s) and the page will load as expected.