Anna Silk
Talk

0
509pages on
this wiki
Anna Silk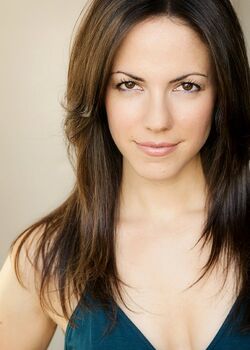 Date of Birth
31 January 1974
Birthplace
Fredericton, New Brunswick, Canada
Anna Silk is a Canadian television, film, and stage actress.
Biography
Silk was born in Fredericton, New Brunswick, Canada. The daughter of Peter, a British academic, and Ilkay Silk, a prominent actor, director, producer, playwright, educator, and Director of Drama at St. Thomas University. Some of Anna's earliest memories were of going to play rehearsals and watching her mother work. Silk appeared in several commercials as a child. She graduated with a B.A. degree from St. Thomas University in 1997. Early theater work includes at least two productions with Theatre St. Thomas: "Seven Menus" and "The Kitchen."
In November 1999, Silk moved to Toronto, Canada, to further her acting career, and during the following decade relocated to Los Angeles, California, USA. She met her future husband, Seth Cooperman, at an actor's workshop in Los Angeles, in 2007. They were engaged in 2009, and married in a civil ceremony in December of the same year. On April 10, 2011, they renewed their vows in a Jewish ceremony in Fredericton after she converted to Judaism. Silk gave birth to a son, Sam Cooperman, in May 2013.
Career
Anna Silk is recognized throughout Canada for playing "Deb", an overstressed flight attendant attempting to quit smoking in the NicoDerm nicotine patch television commercials.
Her television work includes the role of Cassidy Holland in Being Erica, for which she received a 2009 Gemini Awards nomination as "Best Performance by an Actress in a Guest Role, Dramatic Series." Other television roles have included Asia in the Mutant X episode "Within These Walls" (2003); Mindy Lohman in the 'Til Death Do Us Part episode "Storage Unit Murder" (2007); Haylie Wayne in the Ghost Whisperer episode "Big Chills" (2008). Film roles include Grace, one of the assassins in Assassins Tale (2013).
In 2009, Silk landed the lead role of Bo Dennis on Lost Girl. She found out she was pregnant during production of the third season finale episode and broke the news to fans of the series on January 6, 2013, in a Showcase pre-show special leading into the premiere of Season 3. In February 2013, her portrayal of Bo together with Lauren (Zoie Palmer) as same-sex lovers on Lost Girl was declared "Top TV Couple of 2013" by E! Online (E!: Entertainment Television).[1] On June 4, 2013, Showcase and Prodigy Pictures announced the start of production on the fourth season of Lost Girl; and on June 20, 2013, Silk announced via Twitter that she was ready to return to work on the show.[2]
Anna Silk plays the protagonist role of Bo in Lost Girl:

She played a special role in the following episodes:
Links
Official Fan Site
Filmography
Films
| Year | Title | Role | Notes |
| --- | --- | --- | --- |
| 2002  | Confessions of a Dangerous Mind   | Headset Woman | |
| 2003 | Deception | Julie (aka Dina Knable)  | Direct to video  |
| 2007 | Do Not Bend | Catye | Short film |
| 2007 | Breakfast with Scot | Mia | |
| 2013 | Assassins Tale | Grace | Direct to video |
Television
Year
Title
Role
Notes
1999
106 Fire Hydrants
Student
TV movie
2000
Daring & Grace: Teen Detectives
Sabrina
Episode: The Case of the Macbeth Monster (1)
2002
Undressed
Becca
Episode: There's Always Room For Jealousy
(4 segments: 6.17–6.20)
2003
Petits mythes urbains
Wife
Episode: Sexes en eaux troubles
2003
Mutant X
Asia
Episode: Within These Walls
2003
Missing
Marilyn Janacek
Episode: Victoria
2004
Dead Lawyers
Sonia Alexandropova
TV movie
2004
Puppets Who Kill
Sperm Bank Nurse
Episode: Portrait of Buttons
2004
Love Rules!
Lynn Hopp
TV movie
2004
Anonymous Rex
Keri
TV movie
2005
Hate
Woman
TV movie
2005
The Perfect Neighbor
Ashley Marin
TV movie
2006
Earthstorm
Bryna
TV movie
2006
Angela's Eyes
Sondra
Episode: The Camera's Eye
2006
Legacy of Fear
Kathleen Coyne
TV movie
2007
The Jane Show
Kathy
Episode: Shower Killer
2007
'Til Death Do Us Part
Mindy Lohman
Episode: Storage Unit Murder
2007
The Company
Stella Bledsoe
Episode: Hours 1 & 2. TV Mini-Series
2008
Ghost Whisperer
Haylie Wayne
Episode: Big Chills
2008
Billable Hours
Suzie
Episode: Pigeon Lawyer
2009–2010
Being Erica
Cassidy Holland
3 episodes
2010–present 
Lost Girl
Bo
Protagonist
as Woods in Original Skin (2.09)
as Teague in Barometz. Trick. Pressure (2.13)
as Dyson in La Fae Époque (4.07)
2011
Republic of Doyle
Tania St. Croix
Episode: St. John's Town
Web Series
| Year | Title | Role | Notes |
| --- | --- | --- | --- |
| 2007  | Voicemail  | Sandy  | |
Biography on Showcase
Anna Silk (Bo)
Before playing "Bo" on Lost Girl, Anna Silk is perhaps best known for her role as the caustic "Deb" -- the cantankerous flight attendant in the Nicoderm commercials. She divides her time between the big and small screen and has spent the past four years in Los Angeles where one of her fondest roles was playing a hit woman in the film, Stacking Chips. Her film credits also include Breakfast with Scot, Do Not Bend, Where the Truth Lies, and Confessions of a Dangerous Mind.
On the small screen, Silk has had various roles in popular shows in the United States and in Canada. She guest-starred as Jennifer Love Hewitt's beautiful best friend in The Ghost Whisperer and portrayed the murdering wife in 'Til Death Do Us Part. Silk also has spent many notable hours on the small screen in Canada with roles in Angela's Eyes and Puppets Who Kill. She made a memorable guest appearance as "Suzie" on Billable Hours, the "furry" who falls for the company mascot. Most recently, she reprised her role as "Cassidy", the sultry love interest to the lead on Being Erica – a role for which she was honored with a 2010 Gemini Award nomination.
She's thrilled to be back for Season 3 of Lost Girl as "Bo" is one of her favorite roles to-date.
You can follow Silk on twitter @Anna_Silk or check out her fan page at http://www.facebook.com/TheRealAnnaSilk
Articles and Interviews
An interview with Anna Silk about "Lost Girl" Season 5
July 22, 2014. AfterEllen
'Lost Girl' Anna Silk Interview
March 7, 2014. The Huffington Post Canada
Exclusive: Anna Silk - Bo is Perfectly Imperfect
March 3, 2014. SciFi Vision
Anna Silk & Ksenia Talk Lost Girl Season 4
February 5, 2014. SciFi Vision
Anna Silk talks 'Lost Girl' on the set of season 4
November 10, 2013. The GATE
Anna Silk: Bo's fight gets "internal" in 'Lost Girl' S4
November 8, 2013. The Loop (TV Guide.ca)
Lost Girl's Anna Silk Dishes On Season 4 Secrets
November 7, 2013. Real Style Network
Anna Silk talks about new season of 'Lost Girl'
November 7, 2013. (QMI Agency) The London Free Press
'Lost Girl' star Anna Silk welcomes baby boy
May 3, 2013. Global News
EXCLUSIVE: Anna Silk talks "Lost Girl," Doccubus, and prison jump suits
February 12, 2013. AfterEllen
The Erotic Education of Anna Silk: the Lost Girl star on playing a bisexual succubus
February 2013. Toronto Life
'Lost Girl' Silk recognized 'round the world
January 10, 2013. Metro
'Lost Girl' Anna Silk Pregnant: Actress Shares Pregnancy Details
January 8, 2013. Huffpost TV Canada (The Huffington Post)
'Lost Girl' Anna Silk On Season 3's 'Bad' Bo And Guest Star Linda Hamilton
January 4, 2013. HuffPost TV Canada (The Huffington Post)
Anna Silk "Bo" Hot Star of TV's Mega Hit "Lost Girl" Series, Reaches Out To Comfort A Friend!
September 23, 2012. Bulldog Publicity
Anna Silk stays smooth in her role as Lost Girl's Bo
June 24, 2012. Toronto Metro
A journey inside 'Lost Girl' with Anna Silk
March 18, 2012. Digital Journal
Anna Silk Interview LOST GIRL
January 18, 2012. Collider.com
Meet Anna Silk, sexy succubus of Lost Girl, Syfy's newest series
January 10, 2012. Blastr.com
Anna Silk and Zoie Palmer [VIDEO]
September 3, 2011. TOROMagazine.com - On Set
Lost Girl and found lead Anna Silk
[original 08/26/2011 title: How Lost Girl was found: Without Fredericton's Anna Silk, there would be no show, says TV producer]
September 1, 2011. National Post (Postmedia Network)
We Preview LOST GIRL Season 2 with Star Anna Silk
September 1, 2011. theTVaddict.com
'Lost Girl' star Anna Silk drops inhibitions to play seductive succubus Bo
September 1, 2011. (The Canadian Press) Global News

Anna Silk "BO"fore "Lost Girl"- Anna Silk Week Aug 31-Sept 4th
August 31, 2011. Bulldog Publicity
Television: Fredericton's Anna Silk will return as leading lady on 'Lost Girl,' network's No. 1 show
December 31, 2010. Telegraph-Journal
Interview with Anna Silk: Lost and (thankfully) found!
September 12, 2010. Mike's Bloggity Blog
Anna Silk gets another sexy role with TV supernatural thriller 'Lost Girl'
September 9, 2010. The Canadian Press
Adrift in the world of the fae
September 9, 2010. Toronto Star
Television: Fredericton native Anna Silk stars as sexy succubus in new series "Lost Girl"
September 4, 2010. Telegraph-Journal (via Bulldog Publicity)
Videos
08:54

Anna Silk and Kris Holden-Ried Interview (Fan Expo 2010)

06:44

Anna Silk, Kris Holden-Ried Interview (Fan Expo 2010)

03:31

Anna Silk, Emmanuelle Vaugier, Jay Firestone (SDCC 2011)

03:49

Anna Silk Interview (Fan Expo 2011)

15:59

Anna Silk and Zoie Palmer - 2011 Syfy Digital Press Tour

06:01

Season 2 Anna Silk and Ksenia Solo Interview "The Morning Show"

07:37

Lost Girl's Anna Silk

01:06

Anna Silk - Thanks to Lost Girl Fans

04:20

Anna Silk Interview ET Canada

06:46

Anna Silk Season 4 Interview (TheArtsScene)

04:31

Anna Silk talks Season 4

02:13

Anna Silk Interview (2014 Canadian Screen Awards)

03:05

Anna Silk and Zoie Palmer at CSA 2014

02:59

Zoie Palmer & Anna Silk - 2014 Canadian Screen Awards

05:13

Zoie Palmer & Anna Silk - 2014 CSA Press Room Interview

04:32

Zoie Palmer & Anna Silk 2014 CSA Press Room Interview (HD)
References