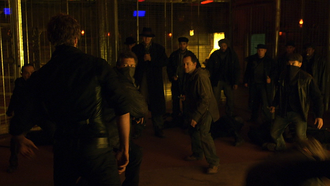 A Berserker is a Fae minion of The Garuda.
Character arc
Berserkers were servants and soldiers of The Garuda.
Trick said that a Berserker can only be killed by blunt-force trauma. Although they were shown succumbing to the penetrating trauma caused by swords and knives, it is not known if they were killed or simply stunned.
It is not known what kind of Fae species it is.
Trivia
Berserkers (or berserks) were Norse warriors who are reported in the Old Norse literature to have fought in a nearly uncontrollable, trance-like fury, a characteristic which later gave rise to the English word berserk. Etymologically, the word comes from björn (bear) + serkr (shirt), as these warriors would often pull on a bear skin to be imbued with the animal's power and wrath.[1]
Appearances
References
NEEDS SOME NARRATIVE ABOUT WHAT THEY DID IN THE EPISODE.
Ad blocker interference detected!
Wikia is a free-to-use site that makes money from advertising. We have a modified experience for viewers using ad blockers

Wikia is not accessible if you've made further modifications. Remove the custom ad blocker rule(s) and the page will load as expected.