Clear Eyes, Fae Hearts is the sixth episode of Season 5.
Writer
Synopsis
Bo and Tamsin infiltrate the world of college football to investigate a homicide that might expose the Fae. Dyson investigates a murder victim who won't stay dead.
Plot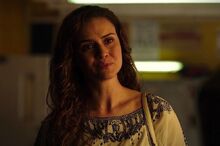 Songs and Music
Ah Ah Ah Ah Ah!  by Imani Coppola
Just This Side Of Insane  by Keaton Simons
Star of County Down  courtesy APM Music
Who's Hot Who's Not (Hot Radio Mix)  by Creature
Trivia
The episode title is a wink to "Clear eyes. Full hearts. Can't lose!" — the famous catchphrase of the high school football team from the American television series "Friday Night Lights."
Ad blocker interference detected!
Wikia is a free-to-use site that makes money from advertising. We have a modified experience for viewers using ad blockers

Wikia is not accessible if you've made further modifications. Remove the custom ad blocker rule(s) and the page will load as expected.