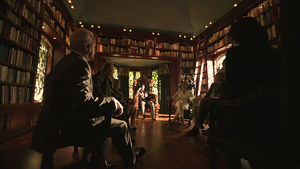 An Elder is a Fae that has lived the longest lifespan (usually a millennia).
Character arc
Elders are Light Fae and Dark Fae individuals who are usually governing leaders or spiritual leaders. They are respected or feared (or both) by the members of their clans, and in some cases the opposite Fae clan as well.
Aife masterminded a bombing attack against the Light Fae Elders during a meeting at the clan's compound between them and The Ash that killed most of the Elders in the room (Blood Lines).
Although The Morrigan has not been described as an Elder, she had a love affair in ancient times with Eros (Here Comes the Night).
Elders
Light Fae
Dark Fae
Trivia
Appearances
References
NEEDS MORE INFO ABOUT ELDERS IF SEEN IN EPISODES
Ad blocker interference detected!
Wikia is a free-to-use site that makes money from advertising. We have a modified experience for viewers using ad blockers

Wikia is not accessible if you've made further modifications. Remove the custom ad blocker rule(s) and the page will load as expected.