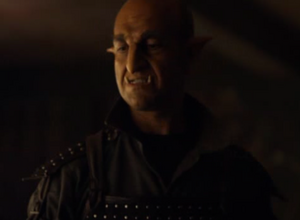 A Goblin is an Under Fae.
Character arc
The Goblin is of average size, though it can be quite tall, with superhuman strength and speed. It was commented that goblins have no regard for law — human or Fae. They also often are said to possess various magical abilities.
Trivia
A goblin is a legendary evil or mischievous illiterate creature, described as a grotesquely evil or evil-like phantom. They are attributed with various (sometimes conflicting) abilities, temperaments and appearances depending on the story and country of origin. In some cases, goblins have been classified as constantly annoying little creatures somewhat related to the brownie and gnome. They are usually depicted as small, sometimes only a few inches tall, sometimes the size of a dwarf.[1]
Appearances
References
NEEDS INFO ABOUT WHAT HAPPENED IN 1.09
AND OF GOBLIN IN 5.02
Ad blocker interference detected!
Wikia is a free-to-use site that makes money from advertising. We have a modified experience for viewers using ad blockers

Wikia is not accessible if you've made further modifications. Remove the custom ad blocker rule(s) and the page will load as expected.