Kris Holden-Ried
Talk

0
476pages on
this wiki
Kris Holden-Ried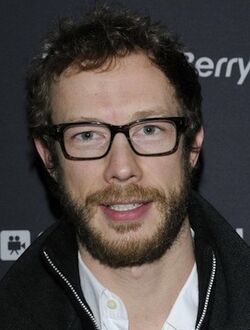 Date of Birth
1 August 1973
Birthplace
Pickering, Ontario, Canada

Kris Holden-Ried is a Canadian film and television actor.
Biography
Holden-Ried (born Kristen Holden-Ried) attended the School of Business at Concordia University in Montreal, Quebec, Canada. He was a champion competitor in equestrian riding and fencing. A former member of the Canadian National Pentathlon Team, he won a silver medal in the Pan American and Pan Pacific Pentathlon Championships.
He has trained with Uta Hagen's Master Class Scene Study, with Janine Manatis, as well as at the Green Room Actor's Workshop and the National Film Acting School.
Career
At his first audition, he landed the leading role in the television series Young Ivanhoe. He portrayed William Compton in the first seven episodes of the The Tudors. Film roles include Quint Lane in Underworld: Awakening (2012).
Kris Holden-Ried plays the core character role of Dyson in Lost Girl.
Links
Official Fan Site
Articles and Interviews
'Lost Girl': Kris Holden-Ried previews Dyson flashbacks
December 20, 2013. TVGuide.ca
Lost Girl S4 Countdown: Kris Holden-Ried & Zoie Palmer at SDCC 2013
November 5, 2013. The Televixen
Exclusive: Kris Holden-Ried on Season 2 of "Lost Girl"
April 19, 2012. SciFi Vision
Kris Holden-Ried Talks LOST GIRL and UNDERWORLD: AWAKENING
January 13, 2012. Collider.com.
Videos



rgbfilter




Gate Magazine




TV Equals
Biography on Showcase
Kris Holden-Reid (Dyson)
Kris Holden-Ried trained as an actor with Uta Hagen's Master Class Scene Study and Janine Manatis of The Actor's Studio before going on to amass an impressive résumé of work on the big and small screens. Playing the cool shape-shifting Fae and detective, "Dyson" on Showcase's drama series, Lost Girl, Holden-Ried's most memorable lead roles include "Giles" in A Touch of Pink and "Jack" in A Stone's Throw, and he supported in Gossip with Kate Hudson, K-19: The Widow Maker, and as Wayne Gretzky in Waking Up Wally: The Walter Gretzky Story. Other roles have included Emotional Arithmetic, starring Susan Sarandon and Gabriel Byrne; Never Forget, a mystery thriller featuring Lou Diamond-Phillips, A Broken Life, a drama with Tom Sizemore; plus Public Domain; Niagara Motel; Going To Kansas City and Textuality. Most recently, Holden-Ried starred alongside Kate Beckinsale in the big-screen blockbuster, Underworld 4 and can be seen in the upcoming feature films: Three Days in Havana, Sex After Kids and The Returned.
Holden-Ried also features prominently on television as Sir William Compton on the historical drama, The Tudors, and recently in the major co-production by BBC, CBC and ABC of Ben Hur. Holden-Ried gained attention for playing bassist "Noel Redding" in Hendrix (Showtime's biopic on Jimi Hendrix). He also appeared on the gritty Street Time (Showtime), and the TV movies Icebound, starring Susan Sarandon, Shaftesbury's Hemingway vs. Callaghan; A Killing Spring, The Many Trials Of One Jane Doe.
He is also an accomplished athlete. As a World Cup equestrian, fencer and swimmer, Holden-Ried earned himself a spot on the Canadian National Pentathlon Team and was a Silver Medalist at both the Pan-Am and Pan-Pacific Championships.
Holden-Ried is looking forward to reprising his role as "Dyson" for Lost Girl's highly anticipated third season.
You can follow Holden-Ried on twitter @KrisHolden_Ried or check out his fan page at http://www.facebook.com/KrisHRied
References
NEEDS MORE CAREER INFO (besides Showcase info)