Ksenia Solo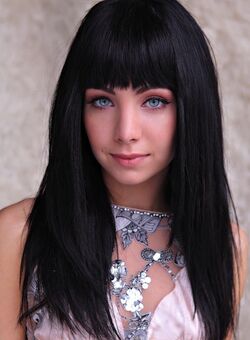 Date of Birth
8 October 1987
Birthplace
Riga, Latvia (Latvian SSR)
Ksenia Solo is a Latvian-born Canadian film and television actress.
Biography
Solo moved with her family to Toronto, Ontario, Canada, when she was five years old and studied ballet until age 14, when a back injury forced her to stop dancing. Her mother is a former ballerina who became a theatre actor. She currently lives in Los Angeles, California, USA.
Career
Her television work includes Missing, as Megan Hahn in the 2004 episode "Judgement Day"; Cold Case, as Lena in the 2007 episode "Cargo"; Nikita, as Irina in the 2011 episode "Alexandra"; Natasha "Tasha" Siviac on Life Unexpected. She was cast in the role of Dodge in the pilot episode of Locke & Key, but the television show based on the comic book series was not picked up by FOX. Solo joined the American Revolutionary War series Turn in its second season as Peggy Shippen; and the Season 3 cast of Orphan Black in the role of Shay.
Film roles include Erin Benson in Love Thy Neighbor (2006); Veronica in Black Swan (2010); and Emma in The Factory (2011).
In 2005 and 2006, Ksenia Solo won Gemini Awards for "Best Performance In A Youth Television Series" as Zoey Jones on the APTN series renegadepress.com. In 2011, she won the Gemini Award for "Best Performance by an Actress in a Featured Supporting Role in a Dramatic Series" for her performance in the Lost Girl episode, Oh Kappa, My Kappa.
After a six-year commitment to the series, Solo decided to leave Lost Girl to pursue other roles and work on other projects, and the character of Kenzi was written as dying in the finale of Season 4; however, Lost Girl producers and Solo collaborated to bring Kenzi back in Season 5 in a limited capacity.[1]
Ksenia Solo plays the core character role of Kenzi in Lost Girl:

She played a special role in the following episodes:

Solo appeared as Kenzi in the following Lost Girl webisode:
Comic Cons and Fan Expos
2011
Fan Expo Canada (Toronto, Ontario, Canada)
2012
Fan Expo Canada (Toronto, Ontario, Canada)
New York Comic Con (New York, NY, USA)
San Diego Comic-Con International (San Diego, CA, USA)
2013
Fan Expo Canada (Toronto, Ontario, Canada)
MCM London Comic Con (London, England, UK)
San Diego Comic-Con International (San Diego, CA, USA)
2014
Comicpalooza (Houston, TX, USA)
Dragon Con (Atlanta, GA, USA)
Fandomfest Comic Expo (Louisville, KY, USA)
FantasyCon (Salt Lake City, UT, USA)
Rose City Comic Con (Tyler, TX, USA)
Links
Official Fan Site
Filmography
Films
| Year | Title | Role | Notes |
| --- | --- | --- | --- |
| 2001  | A Man of Substance | Hannah | Short film |
| 2003 | The Republic of Love  | Micheline | |
| 2010 | Black Swan | Veronica / Little Swan  | |
| 2012 | The Factory | Emma | |
| 2015 | Another You | Sydney | |
Television
Year
Title
Role
Notes
2000
I Was a Sixth Grade Alien
Xhanthippe
Episode: Bride of Pleskit!
2000
Earth: Final Conflict
Kathy Simmons
Episode: Take No Prisoners
2001
My Louisiana Sky
Abby Lynn Anders  
TV movie
2001
What Girls Learn
Girl
TV movie
2002
Sins of the Father
Lucinda
TV movie
2002
Adventure Inc.
Natalie
Episode: Village of the Lost
2003
Defending Our Kids: The Julie Posey Story
Kristyn Posey
TV movie
2004
1-800-Missing
Megan Hahn
Episode: Judgement Day
2004–2008
renegadepress.com
Zoey Jones
Main cast
52 episodes
2005
Kojak
Angela Howard
Episode: All Bets Off: Part 1
2005
Mayday
Amy Stein
TV movie
2006
Love Thy Neighbor
Erin Benson
TV movie
2007
Cold Case
Lena
Episode: Cargo
2008
Moonlight
Bonnie Morrow
Episode: Fated to Pretend
2009
Crime Stories
Waitress
Episode: The Happy Face Killer 
2009
The Cleaner
Callie Bell
Episode: Cinderella
2010–2011
Life Unexpected
Natasha Siviac
13 episodes
2010–present 
Lost Girl
Kenzi
Main cast
as Dyson in Original Skin (2.09)
as Inari in The Kenzi Scale (3.06)
as Angel in La Fae Époque (4.07)
2011
Nikita
Irina
Episode: Alexandra
2011
Locke & Key
Dodge
TV pilot
2014
TURN: Washington's Spies
Peggy Shippen
Margaret Shippen
10 episodes
2015
Orphan Black
Shay Davydov
6 episodes
Web Series
| Year | Title | Role | Notes |
| --- | --- | --- | --- |
| 2013  | Lost Girl  | Kenzi   | Webisode: UPYURS6  (pre-Season 4 special program)  |
Biography on Showcase (2013)
Ksenia Solo (Kenzi)
Ksenia made her theatre debut at age five, and at age 10, she landed her first guest-starring role on the popular Canadian kids series, I Was A Sixth Grade Alien, playing alien princess "Xhanthippe" alongside Michael Cera. Since then, Solo has starred in numerous films and television shows, including the lead role of "Zoey Jones" in the 2003 television series Renegadepress.com. The hard-hitting drama dealt with the challenging real issues of teenage life. Solo's abilities were recognized at age 18, when she became the first-ever winner of two consecutive Gemini Awards for 'Best Performance In A Youth Television Series in both 2005 and 2006.
Over the next four years, Solo studied acting, film directing and photography, and appeared in numerous American television shows including Cold Case, The Cleaner, Moonlight, Earth Final Conflict, Kojak, I Love Mummy and 1-800 Missing. After an international search, Ksenia was handpicked by Darren Aronofsky (The Wrestler, Requiem for A Dream) to play the beautiful yet cruel nemesis, "Veronica", to Natalie Portman's "Nina" in the film Black Swan. She then starred opposite John Cusack in the dark thriller, The Factory, portraying a young prostitute and mother. Following shortly after, the CW's new hit show Life UneXpected offered Solo the role of "Natasha", the street-smart foster teen with a big heart yet troubled life. Solo was also named one of the 55 faces of The Future of Hollywood, alongside Vanessa Hugdens, Ashley Greene and Chloe Moretz by Nylon Magazine. After the Venice Film Festival Premiere of Black Swan, the Italian press named Solo one of three 'Sexiest Women' of the 67th Venice Film Festival along with Natalie Portman and Jessica Alba. Solo won the role of Dodge in the highly anticipated FOX/DreamWorks project Locke & Key which was directed by Mark Romanek (Never Let Me Go, One Hour Photo) and executive produced by Steven Spielberg. It was another exciting year for the actress who ended 2011 winning her third Gemini Award, this time for Best Performance in a Featured Supporting Role, for her Character "Kenzi" in Lost Girl.
Solo spent the better half of 2012 shooting the 3rd season of Lost Girl in Toronto, Canada. In June 2012, she appeared on the Summer Issue cover of US fashion magazine 'Ouch'.
Solo is developing her own film projects along with her film company, OnFire Films, and a team of talented artists. She looks forward to getting behind the camera and exploring the world of directing and producing.
You can follow Solo on twitter @KseniaSolo or check out her fan page at http://www.facebook.com/pages/Ksenia-Solo/157385804283621
@ http://www.showcase.ca/lostgirl/lostgirlbios.aspx?n=Ksenia+Solo+(Kenzi)
Gallery
Videos
02:50

Ksenia Solo of Lost Girl - Interview

03:07

Anna Silk and Ksenia Solo Interview (Fan Expo 2011)

06:01

Season 2 Anna Silk and Ksenia Solo Interview "The Morning Show"

07:34

Season 3 Ksenia Solo Interview

03:50

Ksenia Solo - Stand For The Silent Interview (SDCC 2012)

05:31

Ksenia Solo Interview "Good Day New York"

05:29

Ksenia Solo Interview "The Couch"

02:20

Season 3 Ksenia Solo Interview (Associated Press)

24:09

Lost Girl - MCM Expo London 2013 (Solo, Vaugier, Skarsten, Firestone)

11:25

Emmanuelle Vaugier, Ksenia Solo, Rachel Skarsten, Jay Firestone (MCM London CC 2013)

20:03

Lost Girl Interview - MCM Expo London 2013 (Solo, Vaugier, Skarsten, Firestone)

05:08

Season 4 Ksenia Solo on Kenzi (Interview)

15:46

Ksenia Solo - Season 4 Interview
Articles and Interviews
[  if a web page is no longer available try a search of the URL on Wayback Machine for possible archive  ]

Ksenia Solo on Kenzi, her new 'Turn' and possibly breaking up Cosima and Delphine
April 10, 2015. Cinefilles
Ksenia Solo says her Orphan Black character is no Kenzi
April 7, 2015. Toronto Star
Ksenia Solo On Leaving 'Lost Girl,' Her Fans, And What She's Going To Do Next
December 9, 2014. Huffpost TV Canada (The Huffington Post)
JUSTIN CHATWIN, JAMES FRAIN AND KSENIA SOLO JOIN ORPHAN BLACK (from Media Release)
November 25, 2014. TV, eh?
'Lost Girl' Favorite Boards AMC's 'Turn' (Exclusive)
September 26, 2014. The Hollywood Reporter
The Fae Files #6 – Lost Girl Syfy Media Call April 2014 [PODCAST]
Anna Silk, Ksenia Solo, Zoie Palmer and Kris Holden-Ried
April 3, 2014. Tuning in to SciFi TV
Anna Silk, Ksenia Solo, Kris Holden-Ried & Zoie Palmer – Lost Girl
March 28, 2014. Starry Constellation Magazine
Kenzi and Beyond
February/March 2014. Cliché Magazine
Anna Silk & Ksenia Talk Lost Girl Season 4
February 5, 2014. SciFi Vision
Tuning in to SciFi TV #272 – Last Call [PODCAST]
@ 00:30 Lost Girl Syfy Media Call excerpts with Anna Silk and Ksenia Solo
January 17, 2014. Tuning in to SciFi TV
Lost Girl's Anna Silk and Ksenia Solo talk Bo's absence, George Takei and S4
January 14, 2014. Blastr
Interview: Ksenia Solo Talks 'Lost Girl' Season Four, The Fans, Playing Kenzi & More
January 12, 2014. TVWise
Lost Girl S4 Countdown: Ksenia Solo at SDCC 2013
November 4, 2013. The Televixen
Exclusive: Fan Expo Canada Lost Girl Press Room - Kris Holden-Ried & Ksenia Solo
August 28, 2013. SciFi Vision
Lost Girl: Interviews with Ksenia Solo (Kenzi), Zoie Palmer (Lauren), and Rick Howland (Trick)
October 24, 2012. Nerd Caliber
San Diego Comic-Con 2012: Exclusive Pressroom Q&A with Lost Girl stars Ksenia Solo and Kris Holden-Ried, and Executive Producer Jay Firestone
July 26, 2012. WormholeRiders
Ksenia Solo Talks LOST GIRL, LOCKE & KEY and BLACK SWAN
February 6, 2012. Collider.com
Tuning in to SciFi TV #178 – Last Call [PODCAST]
@ 21:57 Interview with Anna Silk and Ksenia Solo from Lost Girl
February 3, 2012. Tuning in to SciFi TV
Meet Ksenia Solo  [VIDEO]
August 22, 2011. TORO Magazine
Ksenia Solo
April 16, 2011. theaccentcoach.com
Ksenia Solo
November 6, 2010. TheCelebrityCafe.com
'Lost Girl' based on real folklore [Ksenia Solo interview]
September 9, 2010. The Toronto Sun
References
NEEDS MORE INDEPENDENT (NON-SHOWCASE) INFO