Home
Talk

0
474pages on
this wiki
"Life is hard when you don't know who you are. It's harder when you don't know what you are.
My love carries a death sentence. I was lost for years. Searching while hiding.
Only to find that I belong to a world hidden from humans. I won't hide anymore. I will live the life I choose."
≈ Bo
Great News!
Showcase has renewed Lost Girl for a fifth season.
Prodigy Pictures has been given the green-light for 13 episodes.
Production begins this spring and Season 5 is set to air in Fall 2014.
(No announcement yet from Syfy about a renewal for new season.)

LOST GIRL is a Canadian supernatural crime drama from the Showcase channel.
It follows the life of a bisexual Succubus named Bo, as she learns to
control her supernatural abilities, help those in need, and discover the truth about her origins.
Become a member of Team Lost Girl and help us grow this Wiki!
Contact admin: Virago a-go-go.
For viewers who are not current with episodes aired on Showcase: this is not a spoiler-free Wiki.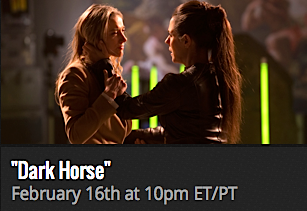 Bo is forced to make the hardest choice of her life when an unthinkable sacrifice is the only thing that can stop a supreme evil from wreaking destruction on her world.
Dark Horse is the thirteenth and final episode of Season 4.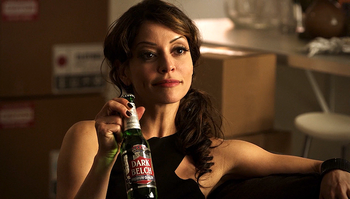 The Morrígan, née Evony Fleurette Marquise, is the wicked, vengeful, punishing, and beautiful leader of the Dark Fae who has made it her mission to put Bo, the unaligned succubus, in her place – or better yet, to death. She rules the Dark Fae local territory with a deliciously evil iron hand.

Lost Girl is rated TV-MA/DLSV
15 in the United Kingdom
MA15+ in Australia
* Watch on Showcase, Sunday 10 PM ET/PTZ
* Watch in the USA on Syfy, Monday 10 PM ET/PTZ
* Watch in the UK and Ireland on Syfy UK, Thursday 9 PM
* Watch on AXN Brazil and AXN Latinoamérica

Season 5 begins in Fall 2014