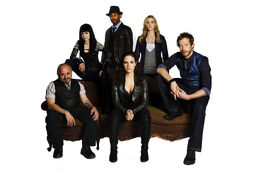 Besides the  hero  and  protagonist  of the story, the Main Characters are the characters that support the story of the hero from the conception of the series and which appear in every season (generally, but not always, in every episode). They have separate functions in the  story arc,  but without them the series would not be the same.
See main article:  Main Cast
Main Characters

[ After four seasons, K.C. Collins left the Main Cast with the death of Hale in Episode 4.11 (End of a Line). ]


[ Return to  Main Characters  category page ]
Ad blocker interference detected!
Wikia is a free-to-use site that makes money from advertising. We have a modified experience for viewers using ad blockers

Wikia is not accessible if you've made further modifications. Remove the custom ad blocker rule(s) and the page will load as expected.