Massimo
Talk

0
474pages on
this wiki
Massimo is a human and The Druid.
Massimo

First appearance: Hail, Hale

Name:

Massimo

Aliases:

The Druid

Status:

Deceased

Species:

Human

Affiliation:

Dark Fae

Occupation:

Alchemist

Known Relatives:

Evony Fleurette Marquise (Mother)
Vex (foster Father)

Powers:

Creates magical potions and replicated body parts

Portrayed by:
Character arc
Edit
Massimo, as The Druid, creates alchemy for the Dark Fae. His magic and skills include potions, ointments, and replicated body parts.
He created a special elixir for The Wanderer so that Tamsin could use it to collect Bo for him.
Massimo offered to make Kenzi a Fae, but only provided her with a cream that allowed her to imitate a Fae power – creating sparks from her hands – until it wore off. He provided the injured Morrígan with a new eye to replace the one that was permanently damaged by Vex.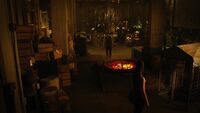 He abducted the newly-adult Tamsin to scalp off a lock of her Valkyrie hair for an unspecified procedure, but when Bo intervened and saved Tamsin, then chi-sucked him, she discovered that he, The Druid, was human. Bo threw a lock of hair that he had quickly cut off into a cauldron of lava to destroy it, and Massimo was forced to drop himself into the cauldron to retrieve the hair.
Personality
Edit
Relationships
Edit
Kenzi: Created a camouflage for her in the form of a pink lotion to rub on her skin so that she could temporarily pass as Fae, with the power to create and shoot sparks with her fingers.
The Morrígan/Evony Fleurette Marquise: He created an exact replica of her eyeball to replace the one that was permanently damaged by Vex when he captured and tortured her in Those Who Wander. He is familiar with her and addresses her as "Evony", her real first name. In It Begins/Origin, we learn that she is his biological mother.
Vex: Took him under his wing and raised him like a son when he was abandoned by his mother, Evony Fleurette Marquise/The Morrígan. (It Begins/Origin)
A druid was a member of the priestly class in Britain, Ireland, and Gaul (France), and possibly other parts of Celtic Europe and Galatia during the Iron Age and even farther back. Very little is known about the ancient druids.[1]
Appearances
Edit
References
Edit