Ad blocker interference detected!
Wikia is a free-to-use site that makes money from advertising. We have a modified experience for viewers using ad blockers

Wikia is not accessible if you've made further modifications. Remove the custom ad blocker rule(s) and the page will load as expected.
Paul Amos is a Welsh film, television, theatre, and voice actor.
Biography
Amos went to the Welsh school Ysgol Gyfun Llanhari in Llanharry, Rhondda Cynon Taf, Wales. He studied acting at the National Youth Theatre and the London Academy of Music and Dramatic Art in London, England.
He lived in London for 12 years until moving to Toronto, Canada, in 2005. He worked at the Stratford Festival in Stratford, Ontario, Canada.
Career
Amos received a 2015 Canadian Screen Awards nomination for "Best Performance by an Actor in a Featured Supporting Role in a Dramatic Program or Series", for his performance in In Memoriam and Origin.[1]
Paul Amos played the role of Vex in the following episodes of Lost Girl:
He played a special role in the following episodes:

Amos appeared as Vex in the following Lost Girl webisode:
Comic Cons and Fan Expos
2013
Dragon Con (Atlanta, GA, USA)
Fan Expo Canada (Toronto, Ontario, Canada)
New York Comic Con (New York, NY, USA)
2014
Central Canada Comic Con (C4) (Winnipeg, Manitoba, Canada)
Fan Expo Canada (Toronto, Ontario, Canada)
Motor City Comic Con (Novi, MI, USA)
Super Megafest Comic-Con (Framingham, MA, USA)
Wales Comic Con (Wrexham, Wales, UK)
Links
Official Fan Site
Filmography
Film
| Year | Title | Role | Notes |
| --- | --- | --- | --- |
| 2002  | Four Feet | Orderly | Short film  |
| 2010 | Forbidden Fruit | Serpent | Short film |
| 2010 | Nexus | David | |
| 2011 | Long Gone Day  | Richter | |
| 2012 | Seven Years | Victor | Short film |
| 2013 | Sex After Kids | Peyton | |
| 2014 | Bastards | Grover | Short film |
| 2014 | Duty Calls | Bartender  | Short film |
| 2015 | Gridlocked | Young Officer  | |
Television
Year
Title
Role
Notes
2003–2004
Jacob's Ladder
Gideon / King David 
2004
Casualty
Karl Sands
2 episodes
2009
Degrassi Goes Hollywood  
Mick
TV movie
2009–2012
Murdoch Mysteries
Dr. Roberts
5 episodes
2010
Abroad
Hugh
TV movie
2010
Aaron Stone
4 episodes
2010–2015 
Lost Girl
Vex
24 episodes
as Prince Felipe III in La Fae Époque (4.07)
as the Maestro in Follow the Yellow Trick Road (5.14)
2011
Warehouse 13
Charles Wells
Episode: 3...2...1
2011
Combat Hospital
Edward
Episode: Reason to Believe
2012
Lost Girl Finale Pre-Show
TV Special (Showcase)
2012
Mudpit
Atticus T. Rain
Episode: We Don't Need No Shreducation
2013
Lost Girl: An Evening at the Clubhouse
TV Special (Showcase)
2015
Mayday (aka Air Emergency) 
First Officer McLelland 
Episode: Choosing Sides
Web Series
| Year | Title | Role | Notes |
| --- | --- | --- | --- |
| 2013 | Lost Girl | Vex | Webisode: Red Tape  (pre-Season 4 special program)  |
| 2013–2014  | Captain Canuck  | Mister Gold  | 4 episodes (Voice-over) |
Video Games
| Year | Title | Role | Notes |
| --- | --- | --- | --- |
| 2015 | Assassin's Creed Syndicate  | Jacob Frye  | Voice-over  |
Gallery
Videos
01:08:27

Paul Amos Interview (Mind Reels 2013)

02:51

Zoie Palmer, Rick Howland, K.C. Collins, Paul Amos (2013 Birks Tribute TIFF)
Articles and Interviews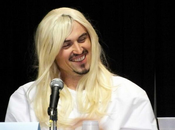 [ if a web page is no longer accessible try a search of the URL on Wayback Machine for a possible archive ]

Lost Girl at C2E2: An Interview with Paul Amos and Emmanuelle Vaugier
April 25, 2015. The Geekiary
CSA 2015 Red Carpet Chat: Lost Girl's Paul Amos
March 3, 2015. The Televixen
Lost Girl's Paul Amos Chats CSA Nomination & Teases Tonight's Episode
January 18, 2015. The Televixen
2015 CANADIAN SCREEN AWARDS - Television Nominations
January 13, 2015. Canadian Screen Awards (Academy of Canadian Cinema & Television)
Lost Girl S4 Countdown: Paul Amos at NYCC 2013
November 8, 2013. The Televixen
Paul Amos on The Una Mens and more Vex in 'Lost Girl' season four at NYCC
November 7, 2013. Examiner.com
Exclusive: Paul Amos on Vex - From Loyalties to Relationships
April 23, 2013. SciFi Vision
References