Pietra was a Dark Scavenger Fae.
Pietra

First appearance: Let the Dark Times Roll

Name:

Pietra

Aliases:

(Unknown)

Status:

Deceased

Species:

Scavenger Fae

Affiliation:

Dark Fae

Occupation:

Finds missing objects and people

Known Relatives:

(Unknown)

Powers:

Tracking

Portrayed by:
Character arc
Pietra worked for The Morrigan.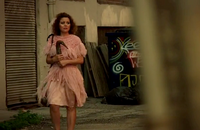 She was executed by The Una Mens. Before her death Pietra told The Keeper that they had the wrong scavenger, but the interrogator replied that she had failed to abide by the sacred rules of the Fae. What she was accused of having done was not provided.
Personality
Relationships
Quotes
"We're going on a mission. Evony's Angels!" – to Bo and Lauren
Appearances
Ad blocker interference detected!
Wikia is a free-to-use site that makes money from advertising. We have a modified experience for viewers using ad blockers

Wikia is not accessible if you've made further modifications. Remove the custom ad blocker rule(s) and the page will load as expected.