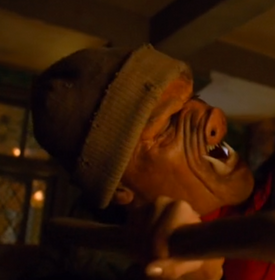 A Pigman is an Under Fae with a genetic makeup similar to the pig mammal.
Character arc
The Pigman is capable of detecting the scent of its prey, especially if the prey is Fae and infected with a parasite.
These creatures travel in packs, protecting each other.
Trivia
Pigmen characters have appeared in books, such as "The Pigman of Devil's Washbowl."[1]
Appearances
References

NEED INFORMATION ON WHAT APPEARS AND HAPPENS IN THE EPISODE BY PIGMEN
Ad blocker interference detected!
Wikia is a free-to-use site that makes money from advertising. We have a modified experience for viewers using ad blockers

Wikia is not accessible if you've made further modifications. Remove the custom ad blocker rule(s) and the page will load as expected.