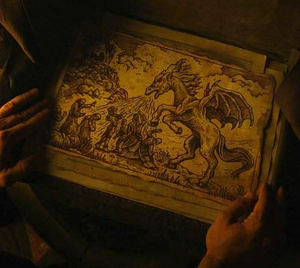 The Pyrippus symbolizes the "Dark Lord", the Lord of Darkness.
Character arc
The Pyrippus is Hades' "Hell Horse" (Let Them Burn) and represents him. Voodoo priestess Laveau referred to the Pyrippus as the "Devil's horse".
It is depicted as a giant horse in drawings, tapestry, and statues. One illustration depicts it with bat-like wings, hovering over a group of people and bearing down on them with what appear to be flames coming out of its mouth, but was actually drawing energy from all of them at once.
The Women of the Horses, an order of warrior nuns led by Sister Epona, worshiped and protected the Pyrippus, and believed that Bo's blood would destroy him.
The Pyrippus was initially prevented from rising out of Hel when Kenzi sacrificed her life to close the Cinvat portal.
However, Bo discovered that she was the Pyrippus. Hades inserted it into her after she was born (Let Them Burn) and it was what enabled Dark Bo to drain multiple life forces at once.
In Rise, Hades used the Pyrippus within Bo to feed off the entire Fae colony and all humans in the city.
The horseshoe created by Hephaestus from the Aegis Shield (Judgement Fae) protected those who possessed it against the Pyrippus.
Quotes
Trivia
Appearances
References
Ad blocker interference detected!
Wikia is a free-to-use site that makes money from advertising. We have a modified experience for viewers using ad blockers

Wikia is not accessible if you've made further modifications. Remove the custom ad blocker rule(s) and the page will load as expected.