Season 5
Talk

0
509pages on
this wiki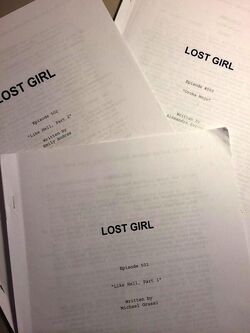 Citing Lost Girl as the Number 1 ranked program on Showcase across multiple key demos (including the Top 20 of all Canadian Specialty Programs for Fall 2013 and continuing to rank in the Top 20 of all Canadian Specialty Programs in Winter/Spring 2014), the series was renewed for a fifth season consisting of 13 episodes on February 27, 2014. With production starting in the spring, the premiere of Season 5 was scheduled for Fall 2014.[1][2]
Michael Grassi, who joined the creative team for Season 4 as Writer and Consulting Producer, became Showrunner and Executive Producer of Season 5.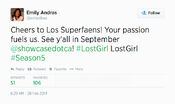 Emily Andras moved into the position of Executive Consulting Producer for Season 5.
Syfy (U.S.) did not issue a press release announcing the renewal for a fifth season; however, the finale episode of Season 4 on April 7, 2014, was followed by the "Lost Girl - Season 5 Tease" trailer informing viewers that Lost Girl would return in 2015.
Showcase and Prodigy Pictures (in association with Shaw Media) announced on April 9, 2014, that production had begun on 13 episodes for Season 5, with filming in and around Toronto, and the new season premiering in the fall.[3][4]
For the production history of Lost Girl, visit:  Development and Production.
Showrunner
Writers
Directors
Story arc
Supporting – Guest – Bit Actors
Viewers – Ratings: Canada
5.01 =
5.02 =
5.03 =
5.04 =
5.05 =
5.06 =
5.07 =
5.08 =
5.09 =
5.10 =
5.11 =
5.12 =
5.13 =
News
Lost Girl Renewed for a 'Fae'fth Season!
February 27, 2014
http://www.showcase.ca/blogs/4901/lost-girl-renewed-for-a-faefth-season
A fifth season of the Showcase original series, Lost Girl, has been greenlit for 13 episodes. The series starring Anna Silk begins production on season five this spring and is set to air Fall 2014.
Throughout the fourth season Bo was plagued by memory loss that left her with more questions than answers, especially upon learning of her inexplicable decision to officially join the Dark Fae. The season's emotional journey exposed Bo and her friends to new loves, heartbreaking losses and shocking betrayals, all leading to the season finale that saw her battle a darkness within herself.
Also returning to the cast are series stars Kris Holden-Ried (The Tudors, Underworld: Awakening) as Light Fae shape-shifter Dyson, Zoie Palmer (The Guard, Instant Star) as human doctor Lauren, Rick Howland (Billable Hours, Murdoch Mysteries) as Bo's ancient and secretive grandfather Trick, and Rachel Skarsten (The Vow, Flashpoint) as Valkyrie warrior Tamsin. Returning guest stars include Paul Amos (Sex After Kids, Murdoch Mysteries) and Emmanuelle Vaugier (Two and a Half Men, Covert Affairs).
A big shout out to all of the Lost Girl fans out there for the continued support – see you in the fall y'all!
Articles – Interviews – Press Releases
'Lost Girl' Season 5 Premiere Preview: Big Surprises Coming For Fans
April 21, 2014. HuffPost TV Canada (The Huffington Post)
PRODUCTION BEGINS ON LOST GIRL SEASON 5
April 09, 2014. Shaw Media (Press Release)
Production Begins on Lost Girl Season 5
April 9, 2014. Showcase Blog: Lost Girl (Shaw Media)
'Lost Girl' Season 5: 'Buffy' Star Charisma Carpenter To Guest Star (EXCLUSIVE)
April 8, 2014. HuffPost Canada TV
'Lost Girl' Renewed for Fifth Season on Canada's Showcase
February 27, 2014. The Hollywood Reporter
'Lost Girl' renewed for Season 5
February 27, 2014. The Loop (TV Guide.ca)
SHOWCASE RENEWS LOST GIRL FOR A "FAE"FTH SEASON
February 27, 2014. Shaw Media (Press Release)
Lost Girl Renewed for a 'Fae'fth Season!
February 27, 2014. Showcase Blog: Lost Girl (Shaw Media)
Videos: Trailers - Previews - Sneak Peeks - Interviews
Syfy Trailers - Sneak Peeks - Previews - Features
References
Stub-tagged for continuing creation of character and species pages, and actors who played them.