The Dal
Talk

0
476pages on
this wiki
The Dál Riata, more commonly referred to as The Dál, is the only Fae exclusive pub in the series.
The Irish-themed pub also acts as a Waypoint, a neutral ground and place for Fae visitors to the territory to check in. It is owned by Trick. ("Lost Girl: Prologue ") In Trick's office there are a number of Fae books and artifacts for research. Bo and Kenzi spend a lot of time there as do Dyson and Hale and to a lesser extent Lauren.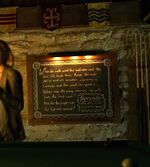 While The Dál appears to be a normal bar on the upper level but down in the basement it seems Trick has a few things hidden away. It appears to have a place for him to live, there is a library - that many Fae come to search for information not even The Ash or The Morrígan are aware of, a vault, and lastly a tunnel system used to transport the elders and was abused by a Tesso and a shape-shifting Fae looking to steal information from the library.
"Dál Riata" was an ancient Gaelic kingdom[1] that roughly consisted of the modern districts of Argyll and Bute[2] and Lochaber[3] in Scotland and County Antrim[4] in Ireland.
References
Edit