Zee is an Ancient Fae and the god "Zeus" of ancient human civilization.
Zee

First appearance: Like Hell, Pt.2

Name:

Zee

Aliases:

Elizabeth Helm
Zeus
Amun
Odin
Jupiter

Status:

Alive

Species:

Ancient (pre-dates Fae)

Affiliation:

None

Occupation:

(Unknown)

Known Relatives:

Heratio (Husband/Brother/Wife/Sister)
Persephone (Daughter)
Iris (Daughter)
Hades (Brother)
Bo (Niece)


Powers:

Lightning
Manipulates Nature to create destruction
Possession and reanimation of corpses

Portrayed by:
Character arc
Zee is a member of one of the most powerful Fae families that ever lived. In ancient civilizations she was worshipped by humans as "Zeus", the supreme ruler of the Olympians.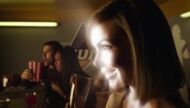 Zee feeds off the energy of euphoria created among crowds of people by the success of a descendant.


Personality
She is a gender bender: possessing the body of a human female and refers as "mother and father" of Persephone and Iris — but is also male.
In Egypt she was known as Amun, the Vikings called her Odin, and was Jupiter to the Romans. Zee has taken many forms and now appears as female.
Zee can control and manipulate lightning and has the power to shoot bolts from her hands.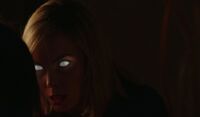 As Zeus, she is known for giving Oracles the vision (i.e. optics) to see what they need to see, and sends them to get the truth from the target person he wants to acquire it from.
Relationships
Quotes
Trivia
Appearances
References
Ad blocker interference detected!
Wikia is a free-to-use site that makes money from advertising. We have a modified experience for viewers using ad blockers

Wikia is not accessible if you've made further modifications. Remove the custom ad blocker rule(s) and the page will load as expected.